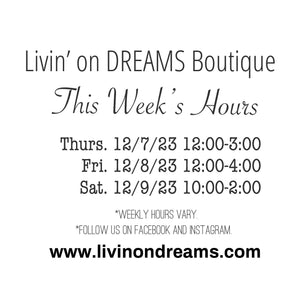 Boutique Hours
Here are this week's Boutique hours. Remember you can shop online anytime! 🖤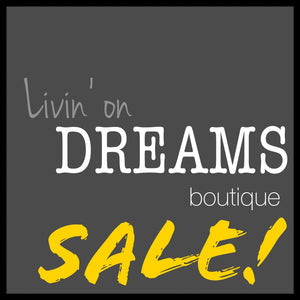 Sale Items!
View and add to cart our marked down Sale items! Items are added to this collection all the time, so check back often.
Sale Collection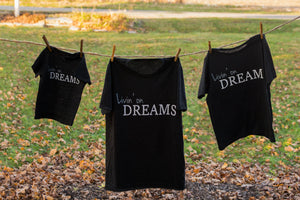 Livin' on...
Click the link to check out all the Livin' on shirts! We've restocked our classic charcoal gray adult Tee and added a few new items!
REMEMBER a portion of each shirt's proceeds is donated to the American Cancer Society. 
Livin' on...
About Livin' on Dreams
The name Livin' on Dreams was introduced to me by my Dad. He lived his life providing for his family by doing what he loved. He followed his dreams and worked hard every single day of his life. He was a fighter until cancer defeated him. Now I am trying to help defeat cancer. Every time an item sells with his words on it, (Livin' on Dreams) I will donate to the American Cancer Society. I hope that someday, somehow, we will defeat this horrible disease that has impacted too many lives. Dream big and keep Livin' on Dreams.